Our Cleaners Can Improve Your Drain Cleaning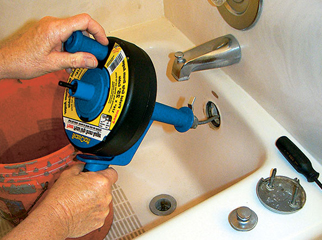 Are you in trying to clean your drains but you are not having much luck? You probably are just returning from the store after buying a bunch of products that promise to remove all of your clogs. Unfortunately, many of these solutions do not get the job, and when that happens, you will need professional help. Call League City Water Heater TX whenever you need a drain cleaning.
A blocked drain can be caused by a large number of the things. Perhaps the most common cause of blockage is grease or fat building up inside of your drains. These two substances harden over time, and as a result, a block is formed in your pipes. When this happens, you will need a snake cutter to cut up to alleviate your clog. Let us know if you need this procedure done; we have a large assortment of drain cleaning tools that were specifically made with this problem in mind.
Discount Solutions For Your Draining Troubles
Worried that you may have to pay a lot of money to get your drain plumbing in order? If so, don't worry about a thing. We offer affordable solutions to your clogs, and we also do our best to help you save money. In addition to cheap rates, we have also provided our clients with coupons located on our homepage. Drain cleaning has never been easier!
Have you noticed that your drains are backing up and it's late at night? Backups can prevent you from using your appliances normally. It can really be tough to get things done when your sinks and bathtubs are all backed up with water. If this happens to you, we have an emergency unblocking service to give you a helping hand. Regardless of the time or day, we will rush to your side if you ever need a drain cleaning.
If You're Having Problems With Your Pipes, Our Plumbers Can Help
We can handle a lot more than just drain cleaning. Are you looking for an expert to aide you in a pipe repair? Maybe your pipes are leaking or clogged up, and you can't get it fixed by yourself. If so, our plumbers can help. Many times, the solution is as simple as tightening up a loose joint. However, if you have a more serious issue such as pipe corrosion, you may need a complete replacement. Whatever the case may be, you can count on League City Water Heater Texas to find the answer to your problems.