If Your Garbage Disposal Breaks, We Can Provide You With A Repair Or A Replacement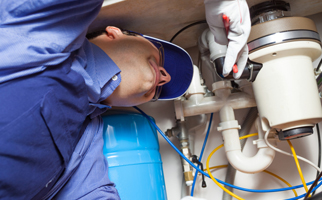 Do you have a broken garbage disposal and you are looking for a replacement? Unless you are an expert in this field, you may not know exactly what to get. There are many different types of disposals, and they all have various features and differing amounts of horsepower. Not sure what you need? If you are unsure, you can always lean on League City Water Heater Texas for reliable advice.
Is your garbage disposal jammed? There are many things that can cause a jam in your kitchen waste unit. While these units are very powerful for their size, not everything is meant to be disposed of in this manner. Things such as large bones, silverware, potato peels, and other big pieces of waste should be thrown in the trash, not your disposal.
Disposal Leaks Are No Match For Our Repairmen
Do you have a leaky garbage disposal and you do not know what caused it or how to fix it? Our repairmen will be there quickly to help you. You might have a broken hose or a loose seal somewhere within your sink. If so, this is something we can easily tighten. Your appliance will be working like new in no time after we are through fixing it.
Practicing responsible garbage disposal maintenance can help you avoid clogs, leaks, and other malfunctions in the future. When you are grinding up waste, make sure you always rinse water down the drain while doing so. This helps it flush down your drains instead of building up and forming a clog. Also, grind orange and lemon peels to get rid of foul odors that may occur after disposing of wastes.
We Are Always Available To Provide Repairs For Your Units
When you need to repair garbage disposal, League City Water Heater TX will be there as soon as possible to give you the help you deserve. However, there are a few steps you can take in the meantime to help you avoid further damage. Use the circuit breaker (or switch) to completely shut off your unit. This way, it will not have power until professional help has arrived on the scene. This method ensures that no further malfunctions can take place until we get there to handle the rest.